For three days festival goers flocked to Heber City, Utah for the camping, arts and music festival Bonanza Campout. Set against a quiet creek nestled among mountains at the base of the Jordanelle Dam, the festival had thousands of campers among tents and cabins, while the rest of the attendees rented off site.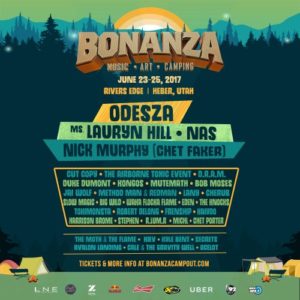 After an ~8 hour drive we set up our tents and and got ready for the first day. 
Transportation was relatively easy after a slow start, as the staff directed fans to park off site 
at a parking lot with shuttles running all day and night. I thought this was actually fairly smart, 
as there can be lots of congestion and wait times when camping is intermixed with parking. 
The scene was relaxed–a collage of people floating in a local pond, drinking games, 
glitter circles, grilling and the excitement of long distance friends together again. The festival 
grounds were modest with maybe a dozen food vendors/trucks, a couple brand promotion 
tents with some gimmicks, a country store (where you could buy beer on site!), and the main 
and side stages. After making friends with 
our neighbors–some graduate students
from the University of Utah–we jumped into 
all of the above, and hosted some spike ball
for our area. If I had to make a guess there 
were maybe 8,000 tickets sold, and most
crowds were relatively sparse.
​
​
Day one included Robert Delong, The Knocks, Slow Magic, Wale, Cut Copy and Nick Murphy 
(Chet Faker). Slow magic was a fascinating act, a drummer with a mix of live and prerecorded 
electronic production. He finished his set by jumping into the crowd for an up tempo session 
which was a hit. The Knocks and Wale both killed it with their high energy sets, and Cut Copy 
was a fun dance party. Nick Murphy was incredibly melodic and had amazing instrumentals to 
go along with his wide ranging vocals. However, I thought the show was out of place and a bit 
too mellow for what the crowd was expecting at that point. The night ended with a "Yacht 
Party/DJ set" by the creek but turned out to be more of a campout, complete with a circle of 
festival goers around a fire. Perhaps a metaphor for the whole weekend.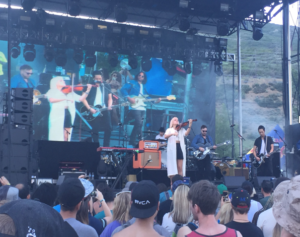 Day two boasted Tokimonsta, Waka Flocka 
Flame, Big Wild, Cherub, Mutemath, The Airborne 
Toxic Event, Nas and Ms. Lauryn Hill.
on the 
left. First off, definitely one of the best rappers I 
have ever seen live–incredible 
pronunciation, 
speed, emphasis and swagger. Backed by a full 
band with a trumpet, sax, 
backup singers and her 
own amazing vocals, she was incredible during 
her songs. However, 
they were few and far 
between, and the pace was a mess. She was like Peyton Manning or 
CP3 on stage, a fiercely adamant and demanding general with her band, constantly 
interacting with hand motions and dictating in between songs. It was incredibly frustrating as a 
fan because you would be so pumped up after a song and then she would take 20 seconds to 
a minute calling the play at the line of scrimmage. It also didn't help that she didn't take the 
stage until 30 minutes after her set started, forcing her DJ to dip into his own production after 
playing rap favorites, which even he was wary of. Maybe she was using the set as practice for 
a larger tour or they were rusty, but overall a very underwhelming performance for such a 
Working backwards from night to day, I 
thought Nas was solid and a polar opposite
performance juxtaposed with Ms. Lauryn Hill. He 
stuck to his hits, he had great continuity and he let
his DJ and hypeman do their own thing 
independently. Other highlights throughout the
day were Big Wild and Cherub, who brought their 
own unique electronic style to the stage to much
fanfare. The Airborne Toxic Event surprised me in 
their incredible musicianship and the stage
presence of the violinist, who seemed completely 
immersed in her music and the festival.
It's always a breath of fresh air to witness that in a 
sea of artists who are so predisposed to be rehearsed every step of their set.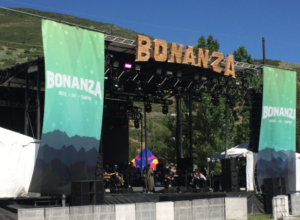 Waka Flocka Flame had a surprisingly very EDM set, complete with a incoherent rap 
over
Drowning Pool's "Let The Bodies Hit The Floor", which I thought was hilarious. This was surrounded by his urging of various young women on stage to let loose, a scene completely out of place at the somewhat family oriented and laid back festival. Lastly, Mutemath was an act I had never heard of but contributed the most unique band composition and performance I
have seen in awhile. The singer looked like the frontman of Linkin Park, and the drummer was 
a madman,
trying to kill his drum set while various stagehands were constantly tightening and supporting his kit. Plenty of fans, like the friends we met above, were recipients of the poor sticks who were brutally murdered in the process. Although their music could be categorized
as alternative rock, the singer was extremely soulful and intimate, while also dancing carefree 
like he was in some Apple ad. The guitarist also brought out this instrument/contraption I 
won't attempt to label. Incredibly fascinating set 
where I really didn't know what was coming next.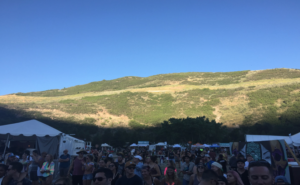 The acts you've never heard of, that radio play hasn't conditioned your image of and that end
up
 blowing your mind, are what makes festivals an experience I will always sign up for. 
​
​
​
 Sunday had the biggest crowds and was a hit
with rap legends 
Method Man and Redman, and 
headlined by festival darlings
Odesza. Method 
Man and Redman were polished and high 
energy, 
an incredible feat with the length of their 
career and the lack of
familiarity among younger 
audiences. However, it was clear 
Wu-Tang is still
for the children. Odesza brought new songs
and 
closed their set with a fireworks show. Overall, 
the
nightlife at Bonanza Campout was 
disappointing, with 
comparable
 festivals having 
a city/bar scene to migrate to, or a more organized
DJ production/campground after party scene. But the quality
acts mixed well with the romantic and rustic scene, and I
thought the festival definitely gave you bang for your 
buck
–a perfect weekend for any laid back crew.