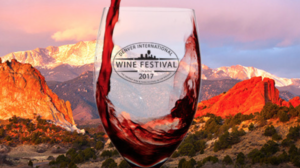 Wine and Food lovers rejoice. Denver International Wine Festival is back. FestivalsForLife looks forward to see you at the multiple different events during the festival.
Space is limited, buy your tickets here.
See the main events below –
Pairsine Chefs Fine Food & Wine Pairing Competition will be held on Thursday, November, 1, 2018 5-9 (VIP), 6-9pm (General Admission). Ten celebrated chefs have each been assigned two of the gold-medal-winning wines from the 2018 Denver International Wine Competition and must create a gourmet food pairing for each wine. They will compete for the coveted Peoples Choice Award. Attendees savor 20 food and wine pairings and more than 40 gold medal wines (scored 91 or higher)! The VIP ticket allows one-hour early access, raw seafood bar, premium cocktails, and a meet and greets with the chefs. A silent auction benefiting There With Care will also be conducted.
The Grand Tasting of International Wines and Food will be held on Friday, November 3rd from 4:009:00 p.m. (VIP), or 6:00-9 p.m. (general admission ). This is the regions largest wine tasting event for consumers, media and trade, with more than eighty wineries and distilleries pouring. Attendees enjoy delectable food and wine tastings, food products, wine accessories, an auction, and fine art. A silent auction benefiting There With Care will also be conducted.
Julie and Julia Champagne Tribute Luncheon is the newest event of the festival on Saturday November 3, 2018, 11:30am to 2:30pm. The exquisite new event that celebrate the 9th anniversary of the blockbuster movie Julie and Julia. Join us for the grand finale of DIWF 2018 to celebrate life with a screening of the Julie and Julia movie and a lunch menu that is inspired by a popular annual luncheon that Julia Child hosted at the Aspen Food & Wine Classic. This event features a delectable reception featuring Colorado artisans and premium wines from Oregon, a champagne sabering demonstration, followed by the movie screening and luncheon. The festivities conclude with a silent auction showcasing large format wines (benefiting There with Care) follows with a tasting of Torres Brandys from Spain!
Now in its 14th year, the Denver International Wine Festival, hosted by Wine Country Network, Inc., attracts vintners from around the world, and showcases the largest selection of international and domestic wines at any Grand Tasting in the Rocky Mountain region. VIP ticket holders gain access to educational seminars and rare guided tastings. Its signature wine and food-pairing event, Pairsine, features some of Colorados top chefs creating gourmet food pairings for gold-medal wines from the Denver International Wine Competition.
Raise your glass to the Denver International Wine Festival.