Each summer, just as anticipation for Electric Forest reaches fever pitch, tens of thousands of fans – traveling from all parts of the world gather at the Double JJ Ranch in Rothbury, Michigan for the music & camping adventure of a lifetime. Excitement for Electric Forest has never been greater, with last year's festival selling out before the lineup was announced, just a mere two weeks after tickets went on sale.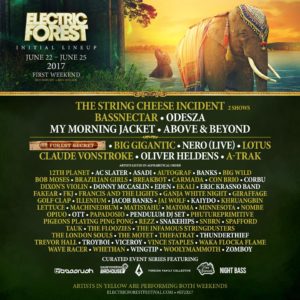 Electric Forest recently announced news of the festival's "Intimate Expansion of Community" for 2017. Electric Forest's move to offer two distinct, back to back weekends at a lower capacity strives to nurture the evolution and growth of the EF community while honoring the much cherished EF experience.  Electric Forest producers Madison House Presents and Insomniac (producers of Las Vegas's Electric Daisy Carnival) hope that expanding the festival to two weekends in 2017 allows the EF community to invite more friends, participate in more ideas, and continue to contribute to this next chapter of Electric Forest together.
Entering its seventh year, Electric Forest is known for bringing together a passionate group of fans whose shared community spirit makes the festival a truly unique experience. The festival incorporates the natural beauty of the venue into carefully crafted art pieces and creatively themed environments, while colorful interactive characters and storylines blend with eclectic performing artists and musicians.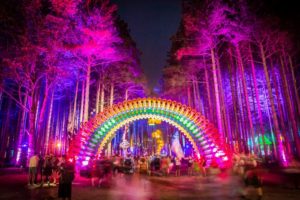 Tickets are sold out for weekend 1 of Electric Forest, however, music fans have the awesome opportunity to attend this one-in-a-lifetime experience by purchasing weekend 2 tickets here.
Come and experience what this place is all about. Attendees say time and time again, "Nothing in this world is like Electric Forest."
As one of the tens of thousands of like-minded music lovers would say, HAPPY FOREST!