It is that time of the year, Colorado. When dance music lovers, dreamers, and believers gather for the biggest and and most extravagant summer rave in the Rocky Mountain Region. That said, a new era of Global Dance Festival is upon us and we simply cannot wait for the magic to come. This year, the producers at Global Dance are taking it to the next level.
With a highly anticipated new venue in addition to attractions spanning the board, Global Dance Festival 2017 is set to be a rave haven.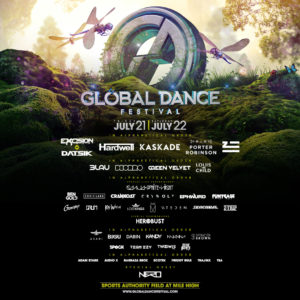 While the new venue and attractions are well anticipated, lets get down to business. The artists.
Below are Festivals For Life's top 5 most anticipated acts.
Crankdat – Crankdat has been cranking out 2017's hottest remixes to hit the club circuit, gaining strong acclaim and momentum among DJs, fans, and DJFans (yes, the fans DJs use, duh). Crankdat may only be 20 years old but has already taken on some of the world's most prestigious venues thanks to his bass-bending sound. With a whopping 150+ million streams under his belt and an ever-growing list of sold out performances, Crankdat plans on kicking things up a notch this summer with a slew of original releases. FestivalsForLife anxiously awaits Crankdat's Colorado debut. For more information, Crank Here.
Herobust – Two words – Move Mint. Herobust has proven once again dubstep is alive and well. Thank us later.
Spock – It's not what it looks like. Although it might be, we aren't quite sure. This year has been massive for up and coming DJ/Producer, Spock. In fact, Spock will be making his much anticipated festival debut at Global Dance Festival on the heals of releasing his latest single with Covah, 'Watch Your Step.' What're we most excited for? Besides Spock's OTT content, Spock's biggest single, "Four Eyes," which was released on Getter's label, the Shred Collective, and has been played out by some of the biggest names in dance music – Snails, Ghastly, and Jauz to name a few.
Covex – Colorado is know for giving dance music some of its greatest acts to date. Catch Colorado cultivated, Covex, with his brand new live set which includes piano, drums, and vocals. Covex has been hard at work and it shows. Listen to Covex here. Don't miss him Friday at Global Dance Festival.
Louis The Child. LTC is comprised of Chicago based producers, Robby Hauldren and Freddy Kennett. Since they first started heating up in 2015, the hot streak has not subsided. Their perfectly produced electro pop is pure ear candy. Lucky for us, they have hit the festival circuit hard including Global Dance Festival on Friday July 21st.
With such a bright future ahead – festival attendees – it is of utmost importance to know your favorite festival's past.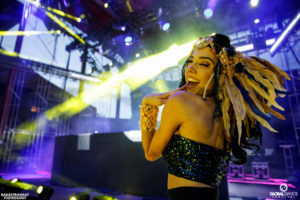 Global Dance Festival has been a cornerstone of dance music in Colorado for over a decade. In a time when dance music was still underground, aficionados made the yearly pilgrimage to experience the show at one of the best venues in the world, Red Rocks Amphitheatre. Before the time of mega-festivals, this yearly homecoming was unique across the nation, and has grown to be recognized by fans across the world. In this next chapter of the Global Dance Festival story it will move to a new home, allowing for the festival's expansion to accommodate more than ever before and opening up a whole new realm of possibilities that can be built on for years to come.
Consider yourselves the fortune ones, to be apart of the fruition of the greatest dance music festival in America. Join us, Friday, July 21st & Saturday July 22nd for two electrifying days to embark upon a new adventure and explore a massive playground at the grounds at Sports Authority Field at Mile High as they are transformed into a true, all-encompassing festival experience. With multiple massive stages, larger production than ever before, a food truck village, a carnival atmosphere complete with multiple rides and carnival games, silent disco, a huge decked out VIP village with private bars, bathrooms and lounge seating areas, shade zones, lockers, stage-side cabanas, an art park with massive installations and room for more attendees than ever.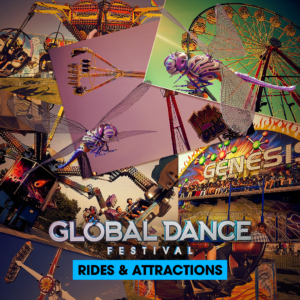 See you within the magic, at Global Dance Festival. Buy your tickets here, before they sell out.