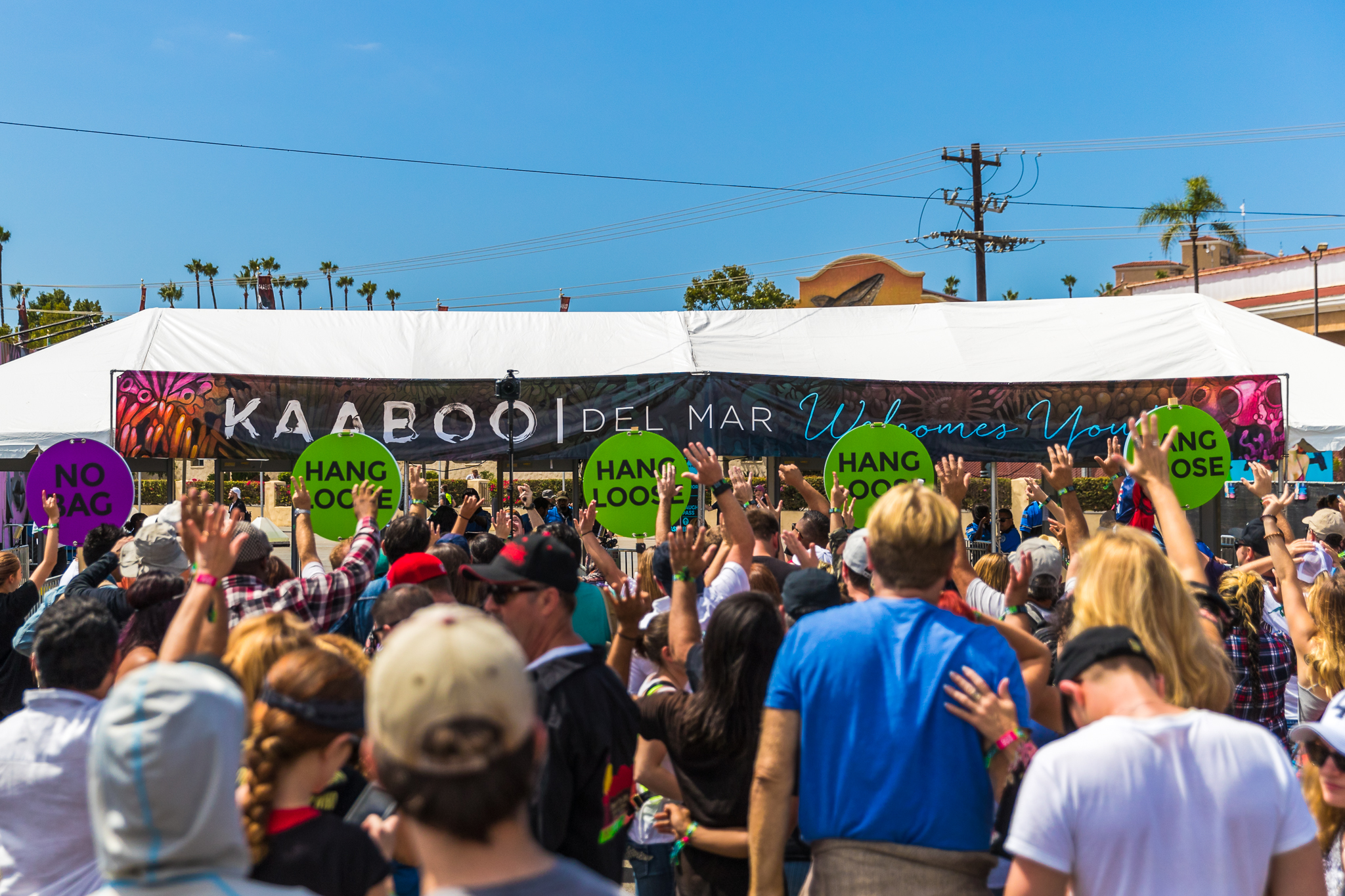 We could not have asked for better weather in San Diego this weekend. However, what truly spoiled us was attending KAABOO Del Mar- a music festival quite different than your typical summer fest. In its third year, KAABOO has figured out how to give it's attendees one hell of a time! Music festivals have spread like wildfire throughout the United States in the past few years with new ones popping up everywhere. KAABOO is much more than a simple music festival though, it is an entire experience. In addition to a top-tier lineup of world class musicians such as Red Hot Chili Peppers, P!nk, Tom Petty and the Heartbreakers, and Muse, guests were treated to live contemporary art installments in Artwork; Vegas style cabanas at Bask; culinary exhibits at Palate; belly laughs at Humor Me; spa services at Indulgences; and late-night dance parties at Club Elevate.
KAABOO was the whole shebang! FestivalsForLife was privileged to attend this festival….No, this experience! These are some of the highlights of the weekend.
Music
KAABOO Del Mar had music for everyone. No matter what your taste may be, you were sure to find something that you loved. The lineup ranged from every side of the spectrum- rap to oldies, rock to electronic, and everything in between. Let's start with some of our favorites.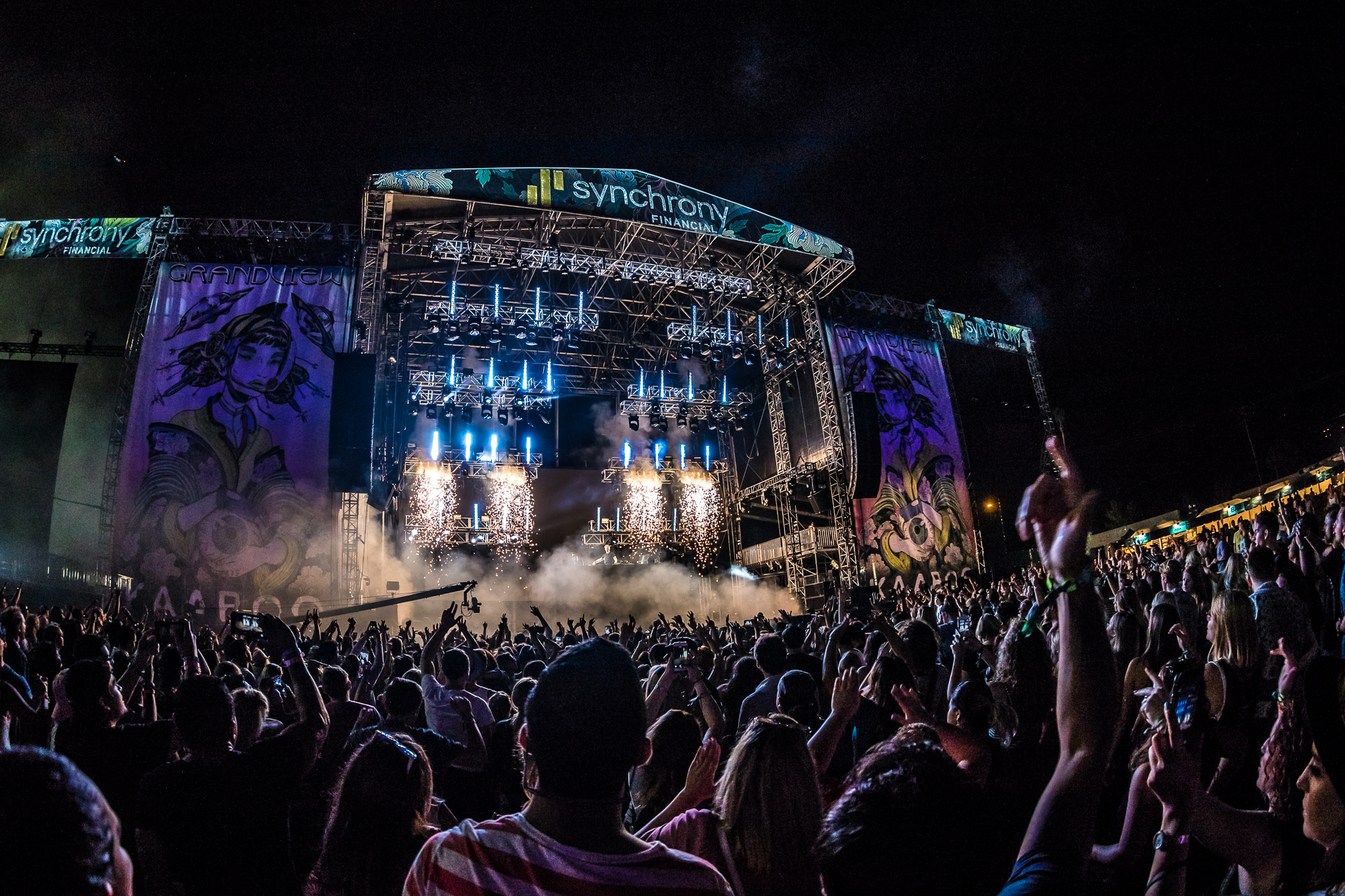 Friday's music kicked off strong setting the bar high for each artist. The Motet brought the funk and had the whole crowd getting down to their jiggy live tracks. They performed with lots of energy and even played an unreleased song or two. Another highlight from Friday was DJ Diesel. This may bring you through a range of emotions, as you first say, "I've never heard of him." Then you realize it's Shaquille O'Neal and get pumped. But wait….. Shaq DJs? Well, we won't say he was the most talented artist at the festival, but he sure did bring the party. With a whole crew on stage dancing with him, plenty of fist pumps, and some of today's most popular hits on the loud speaker- the 7'1″ giant showed his fans a good time.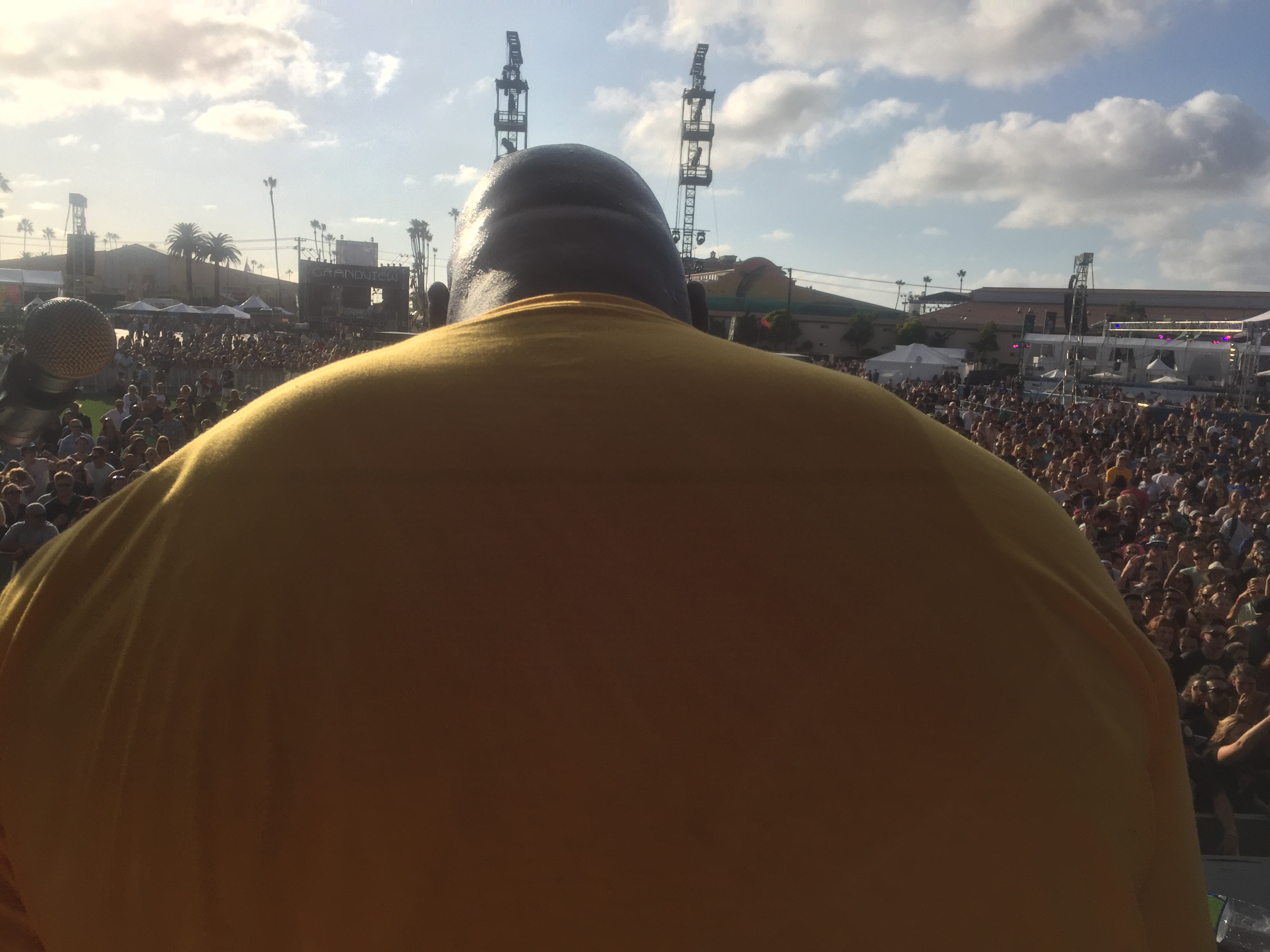 Saturday's may have been our favorite day of music with a schedule full of pure talent. The Lost Kings kicked it off with an early afternoon set. It was unusual to see a deep house electronic artist dropping beats at lunchtime, but they gave us a jumpstart to an action-packed day. The Knocks played afterward at Grandview and kept the crowd dancing to their fun upbeat tunes. Of course, one of our highlights was Ice Cube who took the Sunset Cliffs Stage as the sun began to set. Being the rap icon he is, both young and old fans alike gathered round and listened to hit after hit. He played some of his old NWA throwbacks along with more recent songs. He also had a retro hip-hop vibe going throughout the show by frequently interacting with the audience.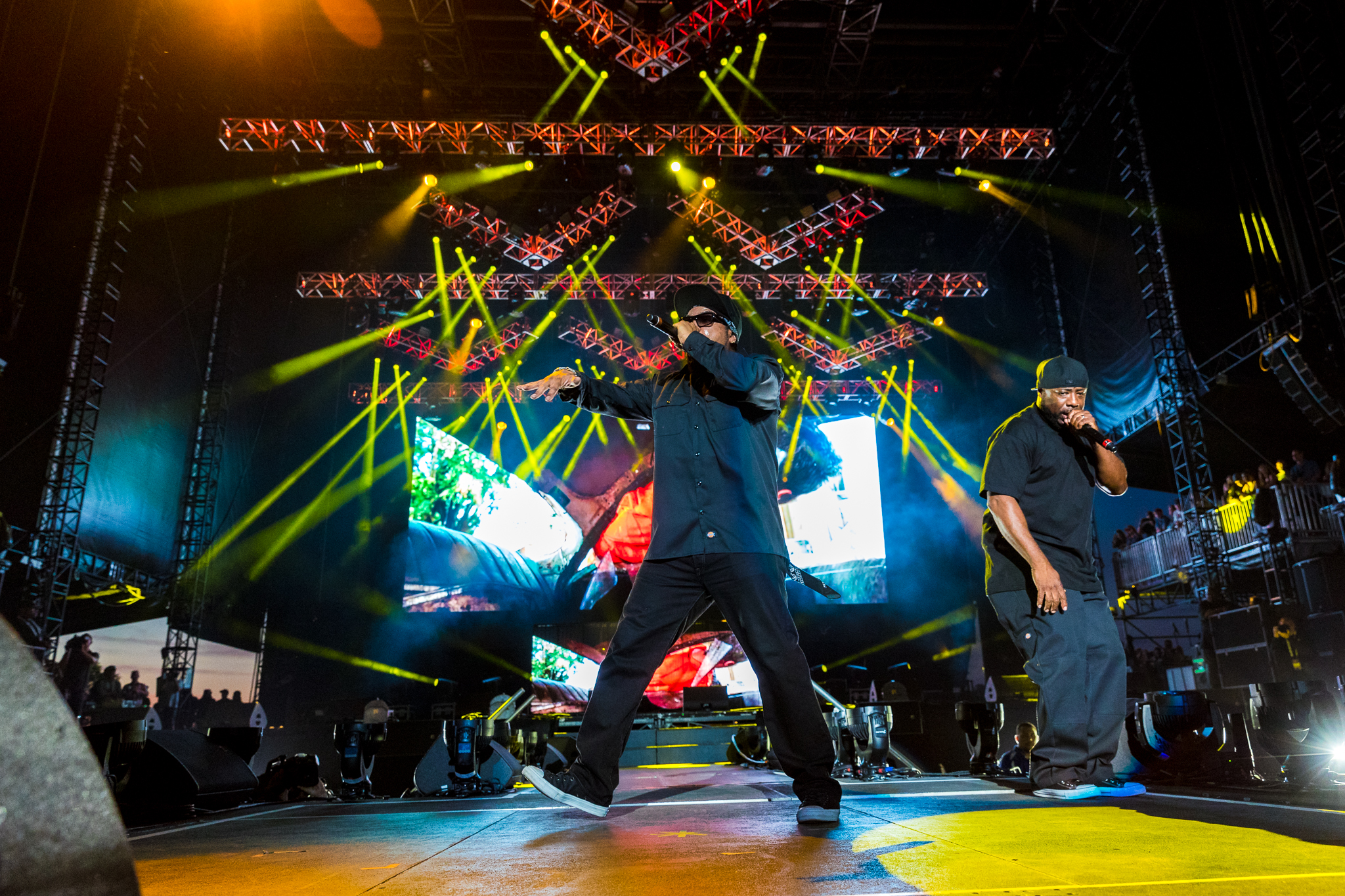 Our favorite headliner of KAABOO was hands down P!NK. It was one of those shows where you realize you know every single song, as she has so many hits. She debuted songs from her forthcoming album Beautiful Trauma as well. P!NK performed with an abundance of energy that kept the crowd fired up throughout her whole set. The finale also included her flying over the crowd with fireworks in the background- epic.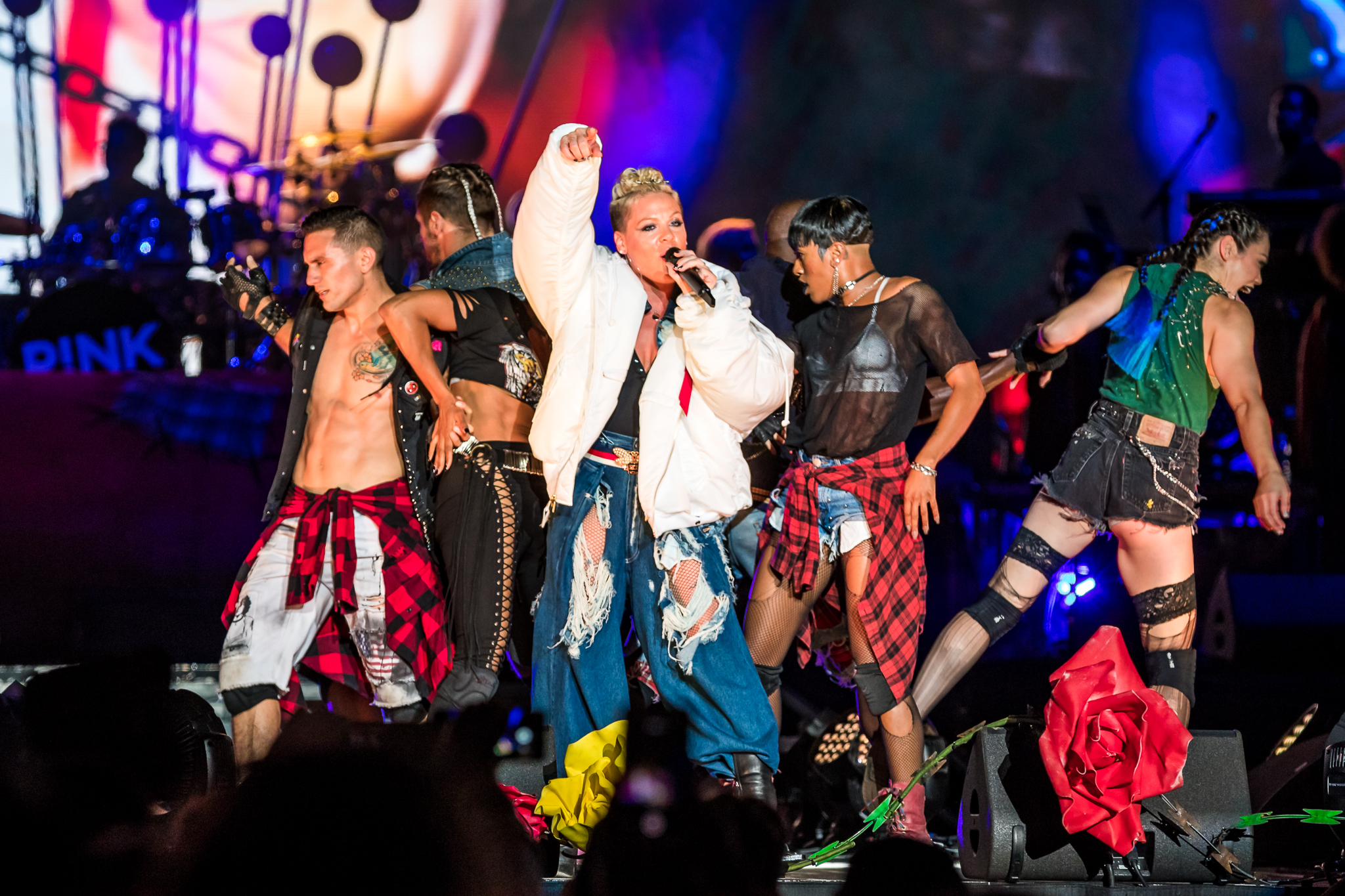 Last but not least, Sunday had some amazing shows too. T-Pain energized the packed crowd to get everyone's day started right. Jason Derulo was another fan favorite with amazing dancers joining him on stage throughout. Fans danced around with strangers as they sang along with his many radio hits. To top off the amazing weekend of music, there could have been no better closer than Tom Petty and The Heartbreakers. The entire festival gathered around together dancing and singing to some of his biggest songs such as Mary Jane's Last Dance and Free Falling.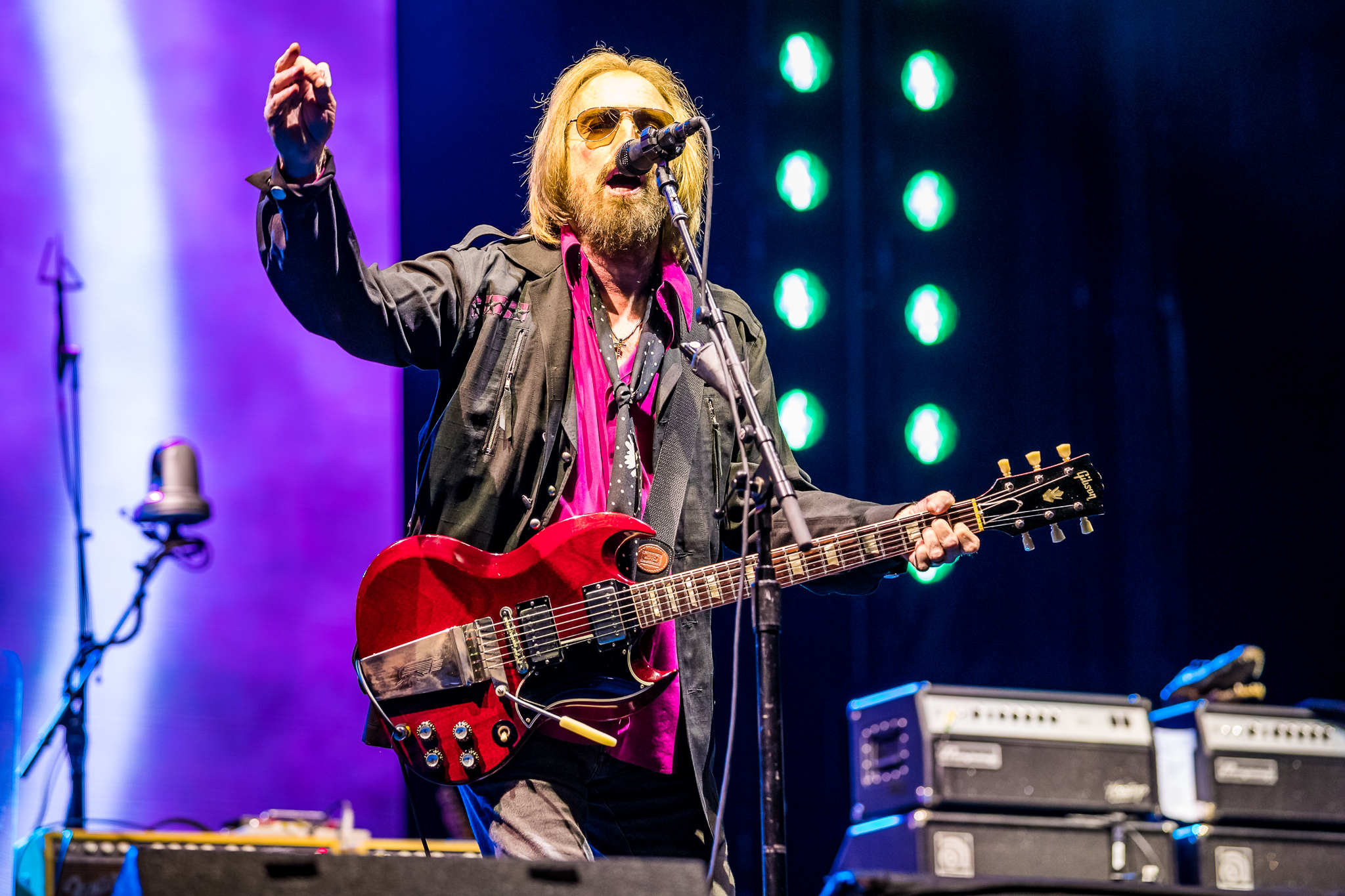 Art
Besides hearing great music everywhere you turned, you also saw beautiful pieces of art everywhere you looked. KAABOO was like a giant art gallery with tons of talented artists showing off their stuff. Many of KAABOO's decorations were made by artists during the festival, while audiences stopped to admire their craft. They even had a whole area set up as an art gallery to showcase the different pieces. Attendees were able to stroll through it and maybe even get lucky enough to see one of them painting a new piece.
Break From Music
Whether you wanted a break from the heat or the music, there were amble amounts of other choices to choose from. It seemed like every section that we walked into revealed something new. One of our favorites was the hot air balloon. Hendrick's Gin had set up a real hot air balloon behind one of the stages, which attendees could sign up to ride in. Seeing the festival from up high sure does give you a whole new perspective of it! This was a very unique idea, as we had never seen a hot air balloon at a music festival before.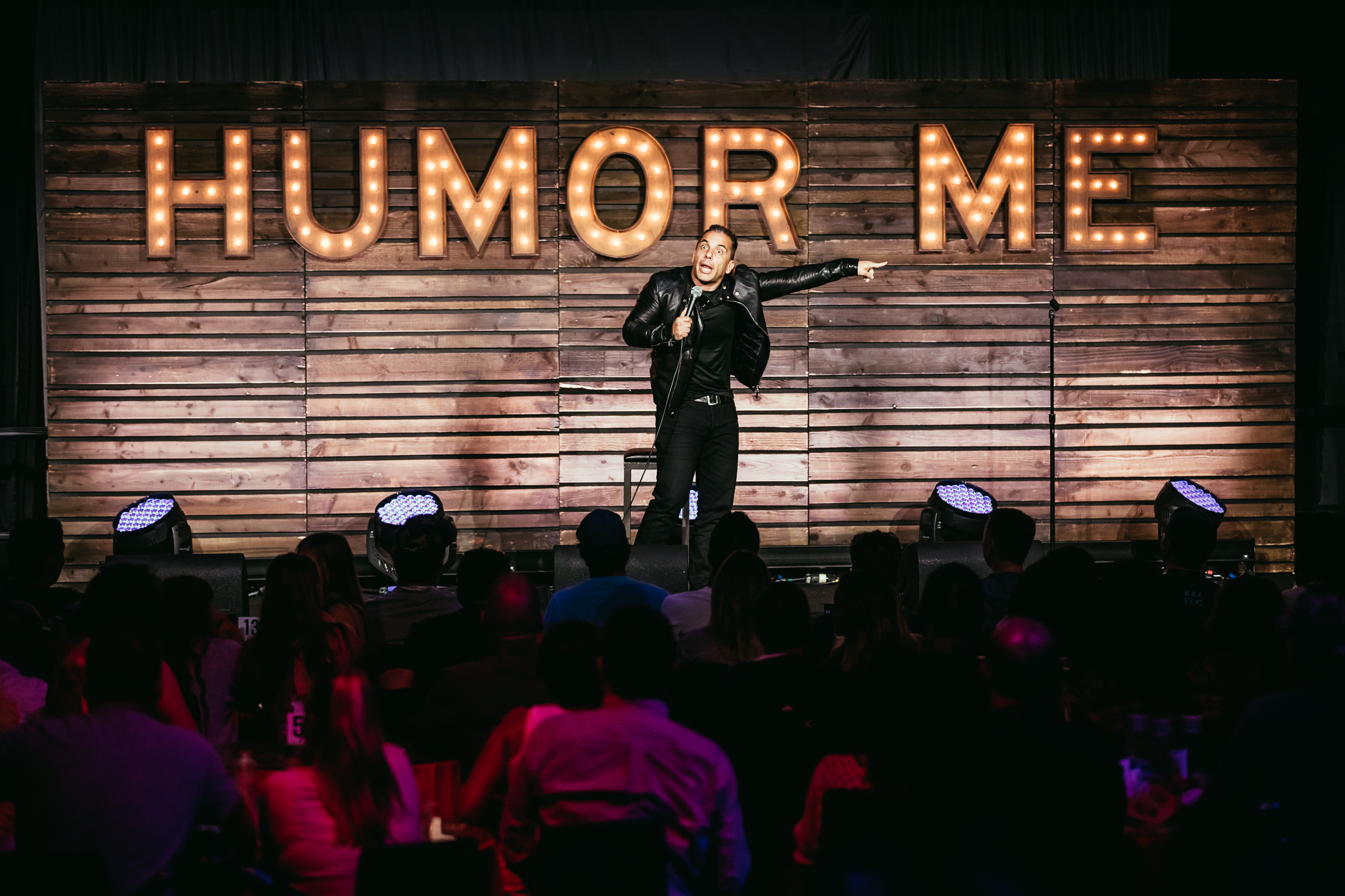 KAABOO also had the Humor Me Stage where stand-up comics performed. This wasn't just a little room with a stage. They had transformed this whole warehouse into a comedy club with seating, tables, and a prominent stage. Additionally, the line up included some of the biggest names in comedy like Sebastian Maniscalco. This was another great place to escape the heat and have a laugh.
While other festivals have subpar food to suppress your hunger between shows, KAABOO had gourmet treats. Some of our favorites included the Moster Fries, Dang Brother's pizza, Buddharito and Searsucker's Frito pie.
Setting
KAABOO took place at the Del Mar Fairgrounds, which has proved to be the ideal setting for the festival again and again. They were able to fit multiple stages into the venue with no problem whatsoever. The Fairgrounds was easy to navigate, and nothing was ever farther than a few minute walk away. There were also many areas one could walk into to take in some air-conditioning if the heat got too much. One of the best parts about the festival, was despite having a large number of attendees, one never felt to crowded. The venue gave everyone the feel of having plenty of space to hang out, dance, or whatever you wanted to do! The grounds were also beautiful, with fountains and a racetrack where they usually hold the horse races.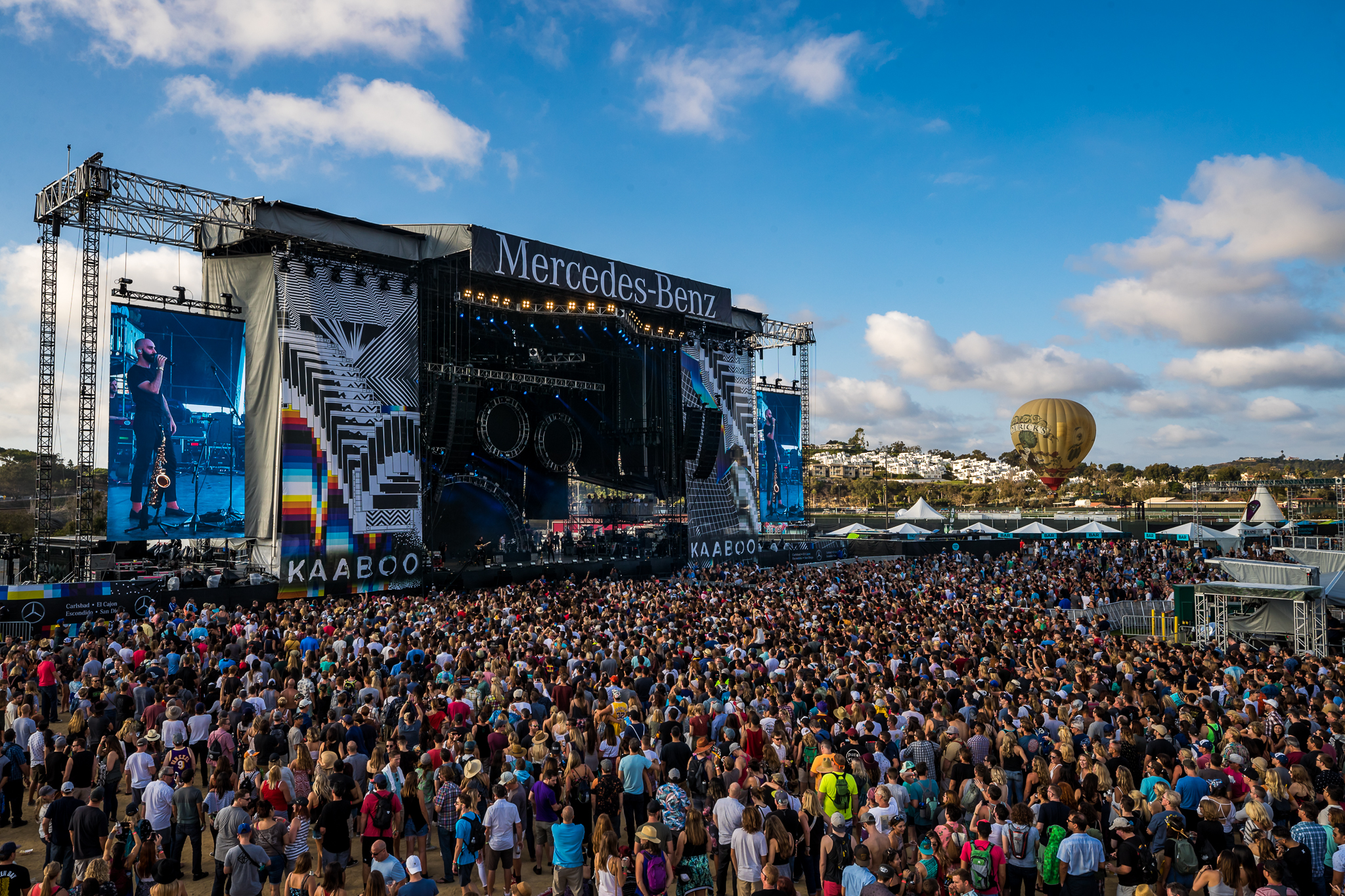 People were even able to upgrade their tickets to get exclusive access to things like the swimming pool. This may have been the best way to cool off, and even better, you could watch the show on the main stage from the comfort of the refreshing pool.
Overall
In the festival's third year of existence, they have figured out how to give their fans an epic experience.  The logistics were flawless, as it was simple to enter the festival, find a bathroom without waiting in ridiculous lines, and even Uber home. The music was on point with an incredibly diverse lineup that everyone could enjoy. The artwork, amazing food, cooking demonstrations and more just added icing to the already delicious cake. It was a festival that truly did have something for everyone. It's hard to believe that KAABOO will try to top itself next year. We can't wait to see what they come up with for year four!