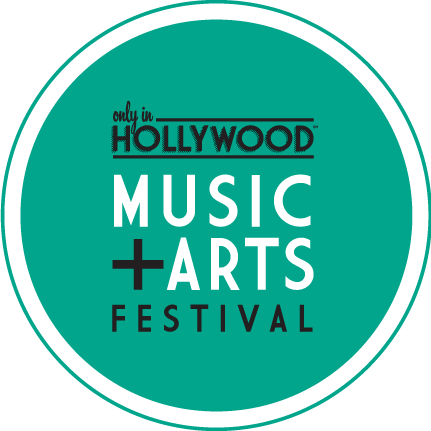 FestivalForLife goers, looking for a great new festival? We've got just the one for you. Check out how unique this sounds! We can't wait to check it out!
With more than 100 live performances in dozens of venues over four days, as well as five pop-up art galleries and a new parklet, the neighborhood festival is a showcase for established and up-and-coming Hollywood talent
The Only in Hollywood Music + Arts Festival will feature more than 100 acts in dozens of venues over four days, the Hollywood Property Owners Alliance announced today. The festival will kick off Thursday, Nov. 5, with acts continuing through Sunday, Nov. 8.  Sponsors include KCRW, Palladium Residences and Capitol Music Group.
"The Only in Hollywood Music + Arts Festival is our neighborhood open house," said Monica Yamada, president of the Hollywood Entertainment District.  "We invite music and art fans to walk the neighborhood, check out the curated selection of acts and artistic expressions, and grab a bite in one of Hollywood's many restaurants."
Activities will be centered along Hollywood Boulevard, Sunset Boulevard and Selma Avenue, near cross-streets Cahuenga Boulevard and Vine Street.
Venues and partners include Amoeba Music, Avalon Hollywood, Capitol Records, Co-LAb Gallery, Couture, CreateNow, EaCa Alley, The Fonda Theatre, Hollywood Arts Council, The Hollywood Palladium, Piano Bar, IO West, LACE (Los Angeles Contemporary Exhibitions), The Library Bar @ The Redbury, Los Angeles Center of Photography, Mama Shelter, The Montalbán Theatre, The Record Parlour, Saint Felix, Sassafras, Second City, Space 15 Twenty, W Hollywood and more.
"For decades, musicians and artists from around the world have come to Hollywood to share their talents.  The Only in Hollywood Music + Art Festival celebrates that creative spirit," said Carol Massie, president of the Sunset & Vine District.  "Los Angeles residents can explore the small and large entertainment venues across Hollywood, and appreciate the incredible craft of these artists."
The festival will include more than five pop-up art galleries, and performances from Fall of Troy at the Fonda Theater; Island Apollo at The Library @ The Redbury; "Cancer the Musical" at Second City; Control presents Mayhem / Antiserum, Apashe, Thugli, and Dainjaa at Avalon; and Silver Needle and Mother Tongue reunion shows at Saint Felix.
Programming will kick off with an opening reception Thursday evening at Space 15 Twenty, the festival hub.  The festival will close Sunday with "Art in the Parking Lot," hosted by The Hollywood Palladium and curated by co-LAb Gallery.
A new pop-up parklet is planned to be activated during the festival.  Architect and Hollywood resident Li Wen, in collaboration with Gensler, ValleyCrest, and local businesses Caffé Etc. and Kitchen 24, are planning to debut 'Cahuenga Crossing' within three parking spaces in a lot at Cahuenga and Selma.
The festival includes a mix of free and ticketed events.  Visit www.OnlyInHollywood.org/Festival for details, including an up-to-date listing of performers, venues and ticket costs.
The Hollywood Property Owners Alliance (HPOA) is supporting the Only in Hollywood Music + Arts Festival to shine a spotlight on the vibrant creative community active in live entertainment venues and restaurants across Hollywood neighborhoods.  HPOA is a 501(c)6 nonprofit corporation that manages the Hollywood Entertainment District and the Sunset & Vine District business improvement districts.