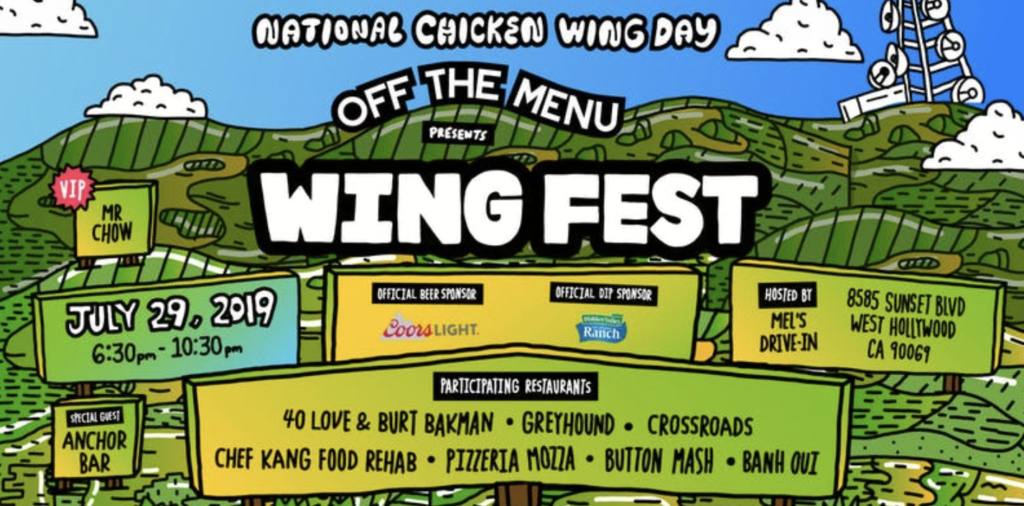 On National Chicken Wing Day, July 29th, celebrate and savor L.A.'s best wings at the iconic Mel's Drive-In in West Hollywood.
Angelenos will be treated to their first-ever celebration of all things 'chicken wing' with the launch of a new curated food festival: Wing Fest. Happening on National Chicken Wing Day – Monday, July 29, 2019 – at the iconic Mel's Drive-In in West Hollywood, the event is an opportunity for Los Angeles' eclectic crowd to come together to celebrate and experience L.A.'s best wings in a quintessential L.A. setting. Wing Fest comes from the mind of organizer Lawrence Longo and his popular 'Off The Menu Club' app. Off The Menu is a food and experience community centered around discovering secret menu items from new and trending restaurants daily through their mobile app.
Members enjoy one complimentary secret menu item per day at curated establishments throughout Los Angeles. The company also hosts pop-ups, chef collaborations and food events on a monthly basis. Past Off The Menu experiences have included: The Secret Burger Showdown with Los Angeles Times FOOD BOWL; a Prince St. Pizza Pop-up; a collaboration between Chef Nancy Silverton x SLAB and a Wildfox Backyard BBQ. Wing Fest will feature a number of diverse options from L.A. favorites like Pizzeria Mozza, Button Mash, 40 Love, The Greyhound Bar & Grill, Banh Oui, and Chef Kang Food Rehab alongside event host, Mel's Drive-In. Vegan options will be provided by Crossroads Kitchen Mr. Chow, available exclusively for VIP guests, will showcase a one-time only limited edition Duck Confit Wing. Special guest Anchor Bar, famed birthplace of the Buffalo chicken wing, will be making the trip to L.A. from Buffalo, NY to serve up their east-coast classic. "Burgers, pizzas and tacos have all had their moments in L.A. but it's time to celebrate a true culinary classic," says Longo. "With 1.3 billion wings consumed nationwide on Super Bowl Sunday alone, an event like this has been a long time coming. At Wing Fest, Angelenos will have the chance to taste the unique styles and bold flavors of some of the city's best wings at our curated festival."
General admission for unlimited wings starts at $45; $75 gets you unlimited wings and drinks and an opportune $135 VIP ticket allows for 30 minutes early admission, unlimited wings & drinks, VIP lounge access, swag, valet and of course, the aforementioned VIP-only catering from the legendary Mr. Chow. Those who sign up for Off The Menu Club will get early access to the event, receive 50% off their first month and have access to Mr. Chow's VIP wings. Simply download the Off The Menu Club app and use code 'wing' to join and get $10 off. WING FEST will be located at Mel's Drive-In West Hollywood 8585 Sunset Blvd, West Hollywood, CA 90069 and will be open on Monday, July 29th, 2019 from 6:30pm-10:30pm.
For tickets and more information visit offthemenuco.com.
We can't wait to see you there!