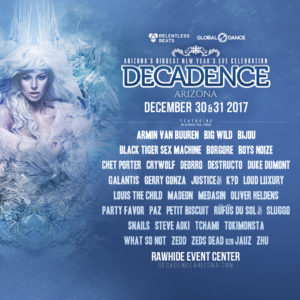 Come join thousands for the biggest New Years' party ever! Returning December 30th and 31st at the Rawhide Western Event Center. There is no better way to kick off the new year, then spending it with the people you love. 'Decadence' means to indulge yourself in luxury. Not only will this event endow you with 34 amazing artists, the city beyond tomorrow will fortify your body, mind, and soul. The sensation of equanimity will wash onto you from the unique PLUR life style radiating at this event.
This is the time to be prideful of who we are, and express ourselves. End 2017 with a BANG! Last Year, the dazzling city of Decadence 2016 was inside of the main building, and vendors, food, merchandise, and water stations were outside. People were blown away by the 23 performances throughout those unforgettable two days. Spectacular acts including Deadmau5, The Chainsmokers, Zedd, and DJ Snake headlined for over 30,000 people. The Rawhide Western Event center has held quite a few amazing events, and many are excited to see what is in store for Decadence 2017.
This year is anticipated to be bigger! With the Ferris wheel being present there should never be a dull moment. The silent disco is returning for your entertainment, as well as one of our favorite popular artists, Zedd. Prepare yourselves for the back-to-back set with Zeds Dead and Jauz, it will be one of a kind. To make your new year start off with integrity, Armin van Buuren, BTSM, Steve Aoki, and Galantis, will be taking the lime light as well. Decadence Arizona 2017 is an event you will regret missing.  Pack your bags, and grab your rave gear! We all look forward to seeing you beautiful creatures of the night there!