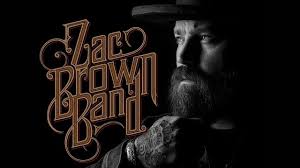 On an overcast day at Coors Field in Denver, Colorado, thousands of cowboy boot wearing fans filled the stadium to see Zac Brown Band live in concert.
The concert started at 7pm on the dot with one of Rolling Stone's "10 Country Artists You Need to Know", Caroline Jones. Jones played four songs that got the crowd excited for the rest of the evening before she sent it over to American singer and songwriter Darrell Scott. Scott's set was a bit longer with more familiar songs that got the crowd on their feet. As his set progressed, members of the Zac Brown Band began to join him with each new song until the entire band and Scott were all performing together. After Scott's final song, a small intermission was taken leaving everyone anxiously awaiting for Zac, Coy, Clay, Daniel, Jimmy, Chris, John, and Matt to take the stage again.

When the eight stars finally took to their instruments and began with their first song, the crowd erupted with applause and immediately joined in singing to all their favorites. The band's most popular songs like "Toes", "Free", and "Jump Right In" were just some of the first songs the crowd enjoyed. As you looked around the stadium, people were enjoying beers and swing dancing and swaying from the stadium chairs to the breeze ways. People of all ages took to the music and couldn't resist to sing along with the boys of Zac Brown.
As the night went on, the band covered songs like Kings of Leon's "Somebody" and Queen's "Bohemians Rhapsody" while also bringing their openers Jones and Scott out to play some songs with them. The concert finally came to a close a bit after ten, but even as the fans walked out, a smile could not leave the faces of many as they had "not a worry in the world, a cold beer in their hands, life was good today , life was good today."