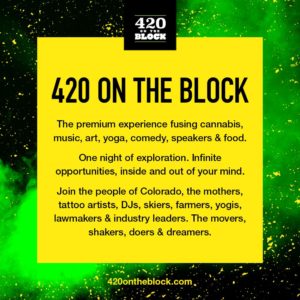 A mere month ago I saw an opportunity in the market to elevate the experience of consuming cannabis or getting high. This opportunity bridges the gap between experiential marketing & brand activations, music festivals and cannabis consumption. Experiencing an emotion on behalf of a brand is the most impactful way to break through the clutter with millennials, esp when music is involved. After being in the right place in the right time, I was able to convince some crazy people to let me and my team sprint with marketing- from branding and content creation to pitching media to crafting the content strategy to involving the right people to make it all happen. Together we were to tell the story of the build of the first ever cannabis music festival, 420 On the Block. It's been interesting to observe the maturation of the cannabis industry. In Colorado, it's embedded in the way we live our lives. Everyone shops at dispensaries, everyone has their preference for getting high (edibles to green), and weed has lost this stigma that it once so incorrectly and negatively had. The stereotype has been shattered and people are bored of it. There's CBD in lotions, hard candies and vape pens, and more women in cannabis are in executive level roles with BOOMING business. Less children are getting epilepsy and there's excitement. Cannabis is evolving our state, improving our economy and bringing people together, over a common cause. It's breaking down barriers.
For so long I struggled with this idea of living in Denver and not being able to influence or be a part of culture. To me, that's what I'm meant to do. That and be a catalyst, fusing my passion and innovation by connecting people to each other. I think so far into the future that I usually trip on the stump or roadblock in front of me, and sometimes I don't even notice it there. I thought for so long that I had to leave the state to fill that void but here I am, feeling like I'm a part of a culture that is truly celebrating our state. And this time it is better than ever because I have the most phenomenal community both locally, nationally and internationally who have and are pulling me and my team through it. They ARE my team. The amount of support that has come pouring our from the people I respect and have worked with across companies and years has been humbling. People shared their hours of research, their creative skills, their brains in the form of ideas, their studios, their equipment, their time and their money because of our common shared goal. It's one of the coolest things I've ever been a part of. That to me, is what Colorado is about. The whole is greater than the sum of its parts. We are as a state, going to put Denver and Colorado on the map, together. This, is what inspired the manifesto I wrote above.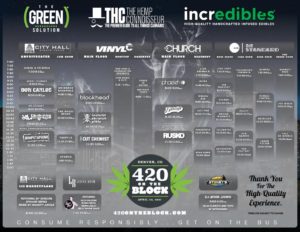 420 On the Block, the name of the festival I've been working on is across 6 venues on South Broadway with the hub being in City Hall. There will be consumption buses lining the streets which are free to wander in and out of as a part of the festival and there's so much to do you won't be able to chose. Let me make this clear: this fest isn't for one type of person and we don't intend for it to be. And the celebration isn't  over one type of music. Just like you want to curate your highness or who you are as a person, you can curate your experience at this fest. You can spend the whole time at yoga, watching live painters and glass blowers in City Hall, dancing to the cannalatino DJ on the Vinyl roof, or in the side City Hall Jamroom with the Beans or a Juda Chop superjam, or with comedy at the Living Room or with J.Phlip's DirtyBird House at the Church. Consumption buses will be lining the streets for hangs on air bags to the sounds of Thievery Corp.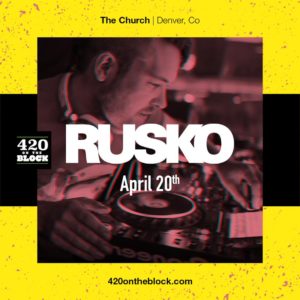 If you're around Denver on 4/20 and you remember the glory days of Folsom Field in Boulder, or maybe you're curious about how cannabis buses work, or maybe you're having FOMO because you're not at Coachella, remember #weedistight and come out. Let's make history together.