As a festival veteran but first time Bonanzian (Bonanzaer?) I have to say I'm incredibly excited for what the weekend has to offer. I've been to large events such as Bonnaroo and Austin City Limits, along with smaller events such as Telluride Blues and Brews and the tragically, indefinitely postponed Vertex festival in Buena Vista, CO. Throughout the years, I've found the latter, smaller festivals to be some of the most incredible experiences cast against amazing natural backdrops.
Bonanza will be held this year in Heber, Utah at River's Edge, just outside of Park City on June 23-25, 2017.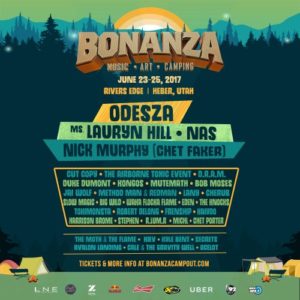 Last year's inaugural festival was headlined by Big Gigantic and Cold War Kids and posted strong reviews. This year returns with hip hop and rap veterns Nas, Method Man and Redman, recent chart-toppers Wale and Waka Flacka Flame and EDM festival favorites Odesza. And let's not forget the legend Ms. Lauryn Hill. The lineup is rounded out by some incredible indie rock acts and further electronica. I think I'm most curious about Nick Murphy (Chet Faker) and what sort of tempo/vibe he will bring.
As most festival veterans have learned though it really isn't about the big headlining names or your favorite bands that have slipped down the lineup. Rather, it's the bands you stumble upon unsuspecting with your friends, or you were just tipped off to by your campsite neighbors. Discovering new music, even new genres is what brings me back year after year to events such as these. A couple of years back at Bonnaroo, I was searching for the fountain (of youth) to cool off with my future girlfriend and we ended up straying to the smallest stage on the farm to discover a kickass funk band. I encourage all readers to find time to just wander aimlessly and find yourself taken aback at some of the magnificent talent that gets buried down the lineup and at the beginning of the day.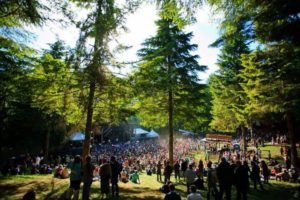 I noticed that a majority of the shows end by 12:30 AM each night, which poses a problem (or opportunity) for those who aren't ready for the night to end. One of my favorite parts of camping festivals is the attention to detail and social atmosphere of the camping grounds. Some groups will put a ton of effort into the aesthetics and creating an inviting environment to keep the party going. I signed up for Country Jam in Colorado a couple of years ago on a whim, and although the music wasn't quite my taste, the campsite was packed with groups who had built out dancefloors, massive pools and had bangin live bands. Last year, my group included Aviva, a DJ from Colorado, and we ended up hosting a party until the wee hours of the morning. Regardless, I'll be sure to explore the various methods festival goers choose to party on wayne.
Lastly, a little preparation can go a long way at these events. Try and think of something to bring to your campsite to stand out or pass the time since most shows don't start till noon. Cornhole, a tree stump, hammer and nails or cards are common. If you're feeling more adventurous and less hungover I would utilize your surroundings and try and plan a hike, swim or yoga. For information check out the website: http://bonanzacampout.com/, see you all there!