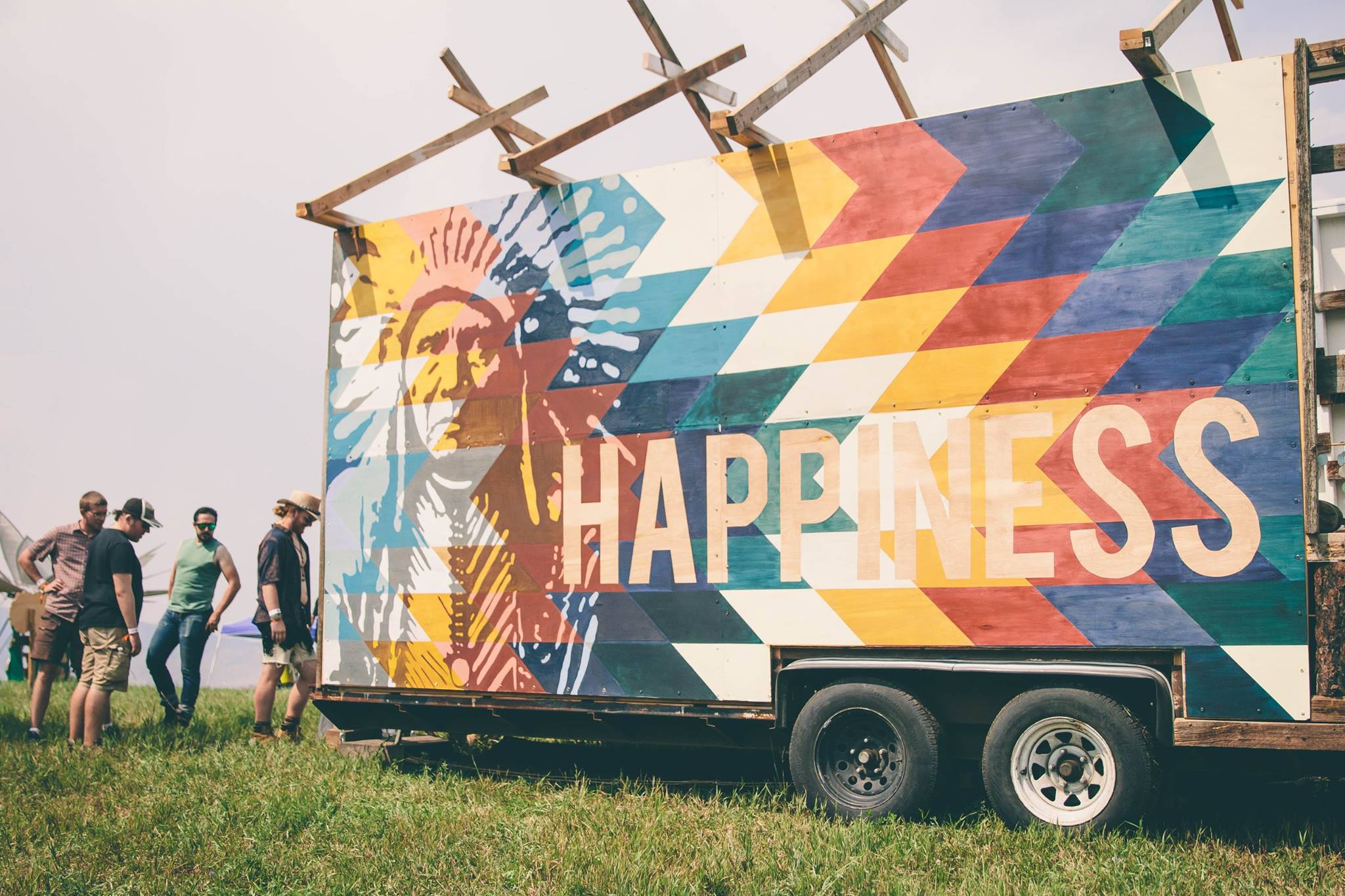 It was the Wednesday before Arise came around, and I decided to ask Siri the weather forecast.
She responded with a glib "It's not looking too good"
Looking at her report, thunderstorms were supposed to grace us with their almighty presence for the entirety of the upcoming weekend. Nevertheless, I was excited to finally go to my first festival in the gorgeous mountain scenery, plenty of shade, and trees begging for me to wrap my unconditional love, aka hammock, around their trunks.
I packed up and headed out with a few friends on Friday trying our hardest to get situated before KLL SMTH threw down at 7pm.
Putting directions into the nav, I quickly realized it was not in the Loveland I thought (cough cough Loveland pass), but rather the bare plains, near Ft. Collins. Fun. We stopped to get groceries, and I stopped at Dicks to get a rain suit because I'm smart and like to be dry.
We show up at 5:30pm with plenty of time to spare, but no service, this would be a test. Half of our car crew jumps out with their easy-up to snag a camp spot. We wish them luck. Us remaining two took on the line with full vengeance. Packed with food and phone chargers, we waited in queue.
Fast forward to 7pm where we literally pull into a parking space since car camping was over full capacity.
We open our doors to stretch.
We immediately get back into our car because of an immediate downpour following 3 enormous lightening strikes that forced the festival to press pause. I've never been witness to a microburst during a thunderstorm, until then. Music shuts off. We don't get out of the car until 8:30pm.
End of chapter 1
What I'm trying to say is that the rain definitely played a huge role in this weekend.
End of chapter 2
Kidding with the chapters.
The night begins with us catching the last of Adam Deitch's DJ set in a huge tent that was filled with more smoke or fog or rather, smog, than I've ever seen in a show before. Cool set though. Saw about 15 minutes before heading to Brother Ali to get spots for Atmosphere.
I've never been a fan for lyrics, it's too much work for me to discern, vs hearing an amazing mix where I don't know what's to come next.
Being a good ol' millennial, Atmosphere has always been in my life growing up, whether I knew it was their song or not. Their set began and instantly everyone was transported back to the late 90s. Again, I couldn't tell you the names of the songs, but I can tell you that ALL of those nostalgic bangers were played, to a professional level as well. It's nice to actually see performers who have been doing it for a while and how they handle different situations. One example, actually 3, is where the entire power gave out at different times. Usually you'll see the act yelling off to the sound booth, or throwing their hands in the air to push the blame on some other reason. Slug, the front guy/rapper, stood in place patiently waiting until being notified in his headset. He then would being free styling, going from a whisper, to a full emotional tantrum of lyricsm, leading to a build up and drop I would have never expected from a rap group. Slug turning the power outages into the most electrifying aspect of their show (pun intended) was by far the greatest moment of Friday night.
While Atmosphere finished out the set, a few of us made our way over to Dirtwire which I have heard a lot about leading up to Arise. Beats Antique was a favorite of mine so I made it a goal to see this show. Essentially it was a delectable mix of spaghetti western and belly dancing music that was continuously at a 110% energy level the entirety of the show. Outfits really make it too, where they all wore black on black, zoro-esque, attire. It seemed at one point that they might have done all of the opening intro songs for AMC or shows like True Detective. Anyways.
Lettuce was a different story. I love my veggies. Especially Lettuce. Trying to grab my buddy away to make it to Desert Dwellers where the rest of our crew was, he talked me out of it and stayed at the arguably best Lettuce set they've ever played. Everything was on point. No mistakes. Everyone was having fun and you could tell they all had their hearts in it. Nothing much I can really say except for I will try to find that set so I can have it in my car.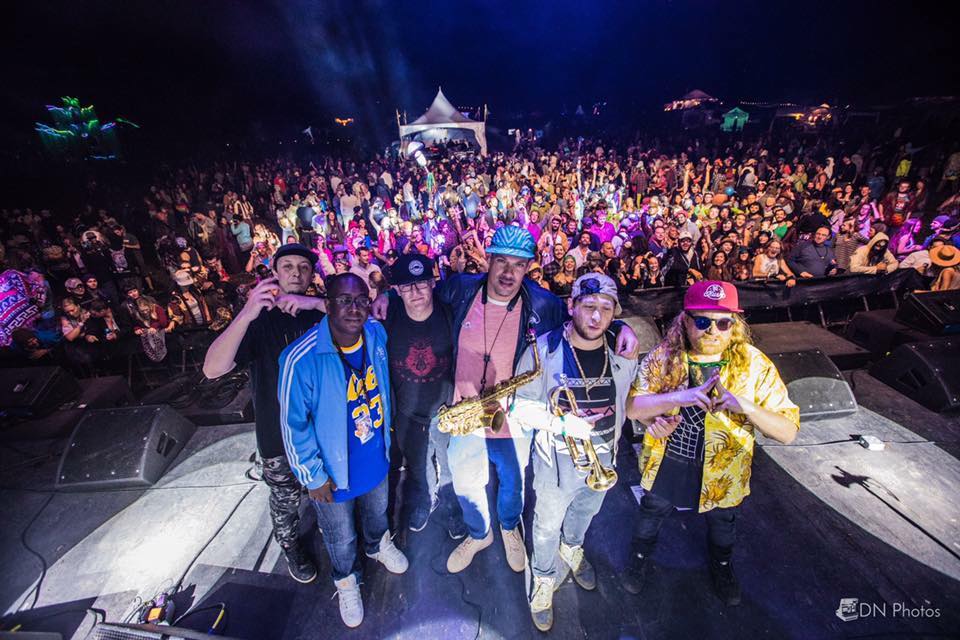 The last couple times I've seen Desert Dwellers, it has always been their full show. It's nice. But. Desert Dwellers DJ set is all the trancey trible bass you need. Seriously. DD DJ set may be one of my few examples of where I would prefer not a live show.
The night came to a glorious end, and at the same time, the night had just begun. Camp was alive. Our neighbors were talking about terps. My sleeping bag…was calling my name.
And yet.
As soon as I fell asleep, I was awake.
The damn sun at 730 am was turning my tent into a veggie steamer that was in the microwave for 5 minutes too long. I pulled my head out of my tent flap like Ace Ventura getting air out of the Rhino's ass. It was the next day.
Stumbling to the festival grounds as I groggily showed my band, I was greeted with the sweetest "Welcome to today!" where I immediately felt a sense of relief, and a craving for a nutella iced coffee (no nutella, but they had mocha and hazelnut…..yuh).
Between then and around 11am I adventured around the festival ground and camp sites before meeting up with our crew. As noon rolled around, we were going to head in, when God had different plans. Between noon and 8pm was rain. Not a lot. But enough that if you look towards the campsites, no one was out and about, rather all huddled under each others tents and learning what they ate for lunch and dinner the day before.
Saturday was more of a blur than Friday, because the entire weekend was devoted to the one and only, Mr. Dave Tipper.
While everyone was already bragging about 4321 coming up for the eclipse, I was counting down until I would see one of the greatest producers and live mixers of all time perform again. Questioning what he would play, a 'journey set' was the consensus.
Meeting up with our entire crew, in the sweet spot, was foreshadowing greatness to come.
Lights go down.
Everyone stands up.
Tipper starts off with some ambient tracks…..and IMMEDIATELY GOES FULL FORCE
It was mid-uptempo the entire time. No 20% unreleased tracks. It was like 60% unreleased. Everything was perfect. Everyone was having the time of their lives. And Android Jones doing his MicroDose VR live was the greatest visual story I've ever been a part of. Samskara was amazing, but the live visuals were unreal. Everything had a beginning, middle, and end. You were reading the story as they were reading it to you. Nothing was forced. It was all beautiful. I hope this set becomes available. A little upset he didn't get to play off of FunktionOnes but that didn't matter compared to how perfect everything else was. I can't wait to see him again. I can't wait to see all my festival fam at the next one again. I can't wait to see perfection again. Till next time Arise. See you next year.