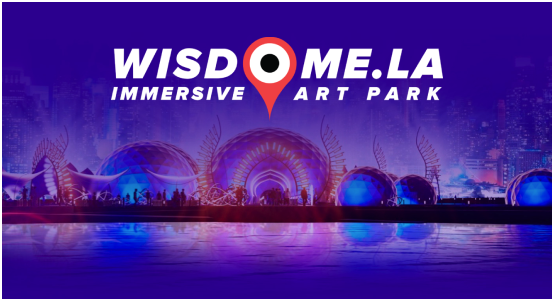 This past Saturday, F4L headed to Downtown Los Angeles to check out the new art park, Wisdome LA. Described as the "world' first fully immersive entertainment art park," Wisdome consists of five domes designed to host cutting edge VR experiences and sensational audio and visual spectacles created by some of the best artists in the world.
Currently at Wisdome is an art exhibit called Samskara, which features work from digital artist Android Jones. Andrew "Android" Jones hails from the US and creates artwork described as Electromineralism. The work showcased at Wisdome included Jones' art gallery of primarily silk prints, a full dome mapping light show, and a microdose interactive VR experience. Jones, who utilizes microdosing to enhance creativity, fits in one dome how these microdosing trips change his perceptions on the world. One can put on VR goggles and roam through minimalistic world made up primarily of shapes. You also are given remote controls in each hand, which you use to create designs right in front of your eyes. It's a creative playground that everyone can enjoy. See it here at https://www.preformedplaygroundmarkings.co.uk/.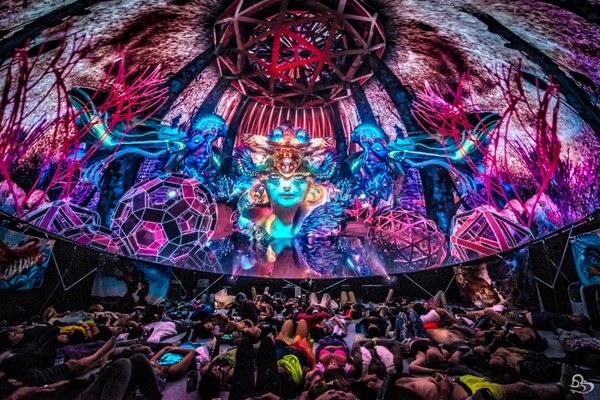 Later in the night, Wisdome pivoted to a music VR experience titled "Beyond The Wall." Beyond The Wall was an exploration of Pink Floyd with the use of virtual reality, specifically attempting to answer the question, what would Pink Floyd be like today if they still existed. Around 200 people sat or danced to Pink Floyd covers played by old members of Pink Floyd, Jane's Addiction, Hendrix Experience, and Fishbone. The visuals on the dome took you into an imaginary world that complimented Pink Floyd's music perfectly. It was an incredible experience!
Wisdome LA hosts many events worthy of checking out. Besides art exhibits, they host dance events, and on March 17 they are hosting Planet X with headliners Sacha Robotti and Justin Jay's Fantastic Voyage. Keep your eyes on Wisdome and everything they have to offer. You won't be disappointed!