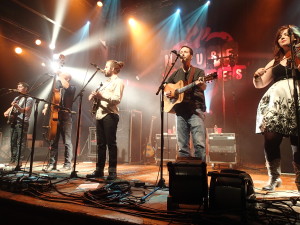 Earlier this April, Yonder Mountain String Band performed at the House Of Blues in Los Angeles. Yonder, as they are called for short, is an upbeat bluegrass jam band group that hails from Nederland, Colorado. The show consisted of five very talented musicians each specializing in their own string instrument: Adam Aijala (guitar), Ben Kaufmann (bass), Dave Johnston (banjo), Allie Kral (fiddle), and Jake Jolliff (mandolin). It is not common to see these types of instruments so powerfully commanding the show, especially in Los Angeles. The audience was on their feet and moving throughout the entire performance, and most importantly, everyone was having fun. That's what you get at a Yonder show, very talented musicians that come together to not just make music that's nice to the ear, but also fun and impossible to sit still to.
A year ago, the band's esteemed mandolinist, Jeff Austin, decided to split ways with the group. However, the addition of Allie Kral and Jake Jolliff more than fill the void.  They were a joy to watch, with both their fingers flying faster than wildfire on the fiddle and mandolin, respectively. Show highlights included Black Sheep off their newest album, cellist Ben Sollee joining the jam for a couple songs, and a special tribute to Game of Thrones (premiering April 12th), with the band playing the show's iconic theme song during their encore performance.
Yonder is definitely an act to catch live because as a jam band, by nature you're guaranteed a unique show every time. As they begin their summer festival circuit, they will be headlining at Rooster Walk Music & Arts Festival in Axton, Virginia from May 21-24. You can catch them at many others such as Wanee, Summer Camp, Blue Ox, Electric Forest, and more. Plus, what better way to end their tour back in their home state with a Red Rocks show on August 21st.