Patty lovers did not let the gloomy skies scare them Thursday, August 1st as they came together to enjoy the annual Denver Burger Battle. This year's event took place at Stanley Marketplace with thousands of attendees looking to crown the best burger in the Mile High City.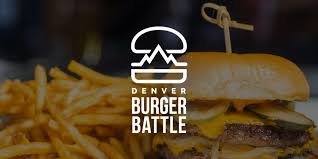 We at Festivals for Life arrived at the start and grabbed a reusable plate with a built-in drink holder and immediately joined in on the fun. We quickly immersed ourselves in the burger festivities, while stopping for some cocktails, ciders and beers along the way. We then found ourselves a table and got down to business, trying each burger and comparing them to one another (We would not recommend consuming this many burgers in one sitting in the future). We were very impressed with the diversity of each restaurant's burger and could not believe the creativity that went into each one. Different varieties of meats, buns, and topping running the gamut from savory to sweet
After trying them all and unbuttoning our pants we made a decision that our favorites were Hearth & Dram's H&D Burger and American Grind's C&D burger. But we weren't just blown away by all the meat we had, in fact, we were dazzled by Roxy on Broadway, which was serving up some of the best truffle fries we've ever had. These fries were the perfect combination of a crispy outside with a pillowy potato center. After all these burgers we needed a palate cleanser, we stumbled upon Snowie Ambulance, that served shaved ice with a ton of different flavors and a shot of "Deep Eddy's Vodka" and it was a perfect finish to our burger marathon.
Twenty restaurants within the 5280 participated this year, with the aspirations of being chosen for the Judge's Choice or People's Choice awards. However, while every place served something special and delicious, this year's winners were:
Judge's Choice: The Cherry Cricket with its 303 Green Chile Relleno Burger
People's Choice: Hearth and Dram with its H&D Burger
This was one of our favorite events of the summer. Alongside the live music, beer samples, fun activities and of course, the burgers, the atmosphere of the event was infectious as everyone seemed to have a smile on their face. We went home happy and overly full. We can't wait to see what everyone cooks up for the Denver Burger Battle 2020!