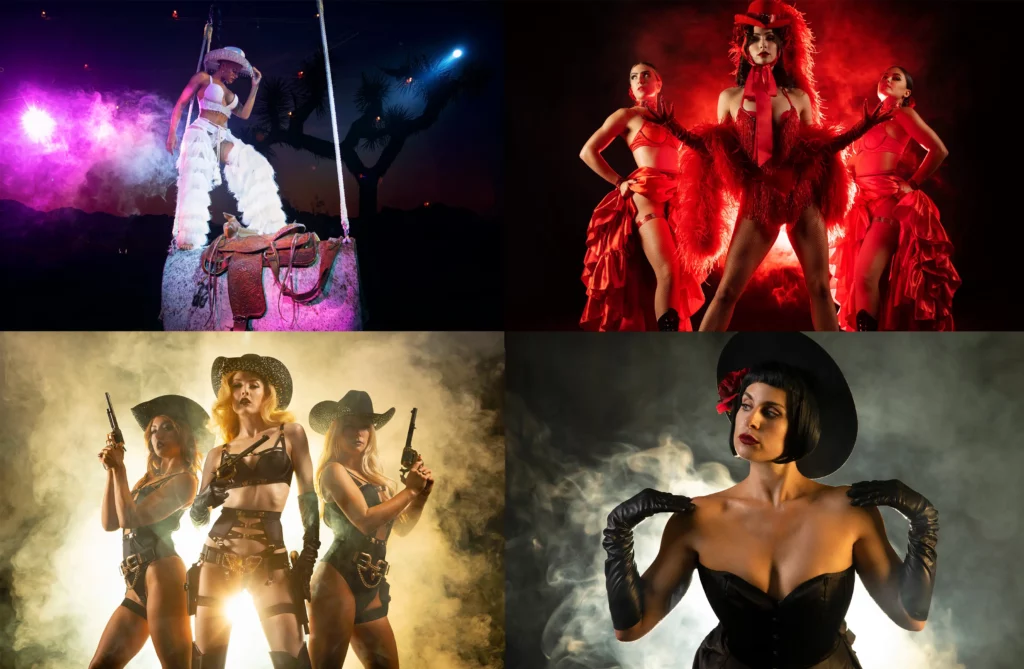 Looking to add some excitement to your week? Than you're not going to want to miss DESPERADA, the first all-female western cabaret with cirque, burlesque, music, and danger this Thursday night at Florentine Gardens.
DESPERADA is a narrative-driven female-centric show that paints the Old West all new. As the first all-female Western show, with a cast of cirque artists, glorious dancers, burlesque starlets, and a variety of debaucherous outlaws performing uniquely western disciplines, the show appears to be anything but conventional. However, the themes are familiar, tying battles of good and evil, the notorious pathos of western films, and a cinematic nostalgia together with shocking feats and entirely unfamiliar twists. This carefully crafted juxtaposition between Western history and folklore is what makes DESPERADA a distinctive, yet universally enticing experience, transporting viewers within the confines of a Hollywood theater.
While much of the allure of this show lies in the excess–the extreme performances, the abundance of glamour, a complex narrative told through movement –DESPERADA was a show born out of necessity, filling a void in the entertainment landscape of a city known for that very industry. As the show's creator, showgirl Tosca Rivola puts it, "Los Angeles is not a show city. The entertainment in this city is geared primarily towards parties, which do not provide the same energy and diligence as a live show." Having performed in cabarets and shows all over the world, Rivola set out to create that environment in the city she now calls home.
With the initial purpose of integrating a particular kind of live theater back into Los Angeles, DESPERADA has gone on to tackle many other topics of significance. As the first all-female western, it is already breaking new ground, but rather than leave it at that, Rivola and the Fatale Factory have gone quite a bit further, taking a previously male-centric and one-dimensional piece of history and diversifying it in terms of race, gender, and even narrative. The few men that take the stage do so as secondary characters, familiar tropes without depth, flipping the traditional script on its head. It is the men who pick up the clothes for the women who fling them around in spectacle, and forage for props backstage while the ladies perform the main event, establishing a new hierarchy in the world of DESPERADA. In this diverse retelling, audience members relinquish the ownership of the western narrative, a story that is so often exclusively male, white, and american. Rivola, who is a first generation immigrant from Prague, uses her distance from the story to weave a different tale about observed American culture, heightening and modifying the familiar tropes.
While DESPERADA broaches certain injustices, it is an entirely self-aware show. At its core, it is entertainment, and within that one can only address so many issues. However, even with the limitations, this show takes an important step, choosing to eradicate the male-centric nature of the tale and emphasize diversity and change. The show provides a departure from the classic cabaret.
You're not going to want to miss this action packed show. Grab your tickets before they sell out!
More Details & Purchase Tickets Here