Looking for something fun to do this weekend around LA?
Garagiste Wine Festival: Urban Exposure brings together hard-to-find micro-production wineries from nearly every California AVA, all under one spacious roof in Glendale; events include Grand Tasting, a Rare and Reserve party and a tasting seminar that explores ancient winemaking techniques used by some of today's most innovative winemakers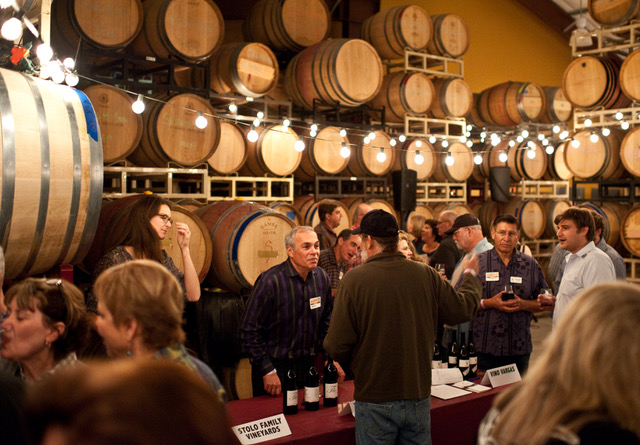 America's Best Wine Festival [1], The Garagiste Wine Festival, returns to LA July 22nd and 23rd with a dynamic line-up of over 40 of some of the best micro-production 'garagiste' wineries from across California, including Santa Barbara County, Paso Robles, Sonoma, Napa, Mendocino and Los Angeles. Events include a Friday evening Rare and Reserve party and a tasting seminar on ancient winemaking techniques made modern. All events take place at the Glendale Civic Auditorium. Tickets on sale here.
"We are excited to be back in Southern California with another slate of remarkable and innovative wineries from almost every California AVA," said Garagiste Festival Co-founder Doug Minnick. "The Garagiste Festival: Urban Exposure offers one of the most unique wine discovery opportunities available in the LA area. Most of these wineries do not have tasting rooms, and you will never find them on supermarket shelves, but you will find them all under one spacious roof in Glendale this July. You'll be able to taste a wide range of California wine country's hidden, and one-of-a-kind, gems right in your backyard. And all for considerably less than the cost of gas for a trip to wine country."
Dubbed "tasting nirvana," "strange and wondrous," and "one not to miss" by the LA Times, the Garagiste Festival showcases under-the-radar, innovative, commercial winemakers who handcraft 1500 cases or less of wine and is renowned for its diversity of wines, renegade spirit, passionate winemakers, handcrafted wines and rules-breaking, 'no snobs allowed' ethos.
Garagiste Festival: Urban Exposure is Los Angeles' only wine festival that exclusively features high quality wines from commercial California 'garagiste' winemakers and, unlike other festivals, the wines are poured by the winemakers/owners themselves, offering a rare opportunity to interact with the creative forces behind the wines, while making brand new wine discoveries.
The Garagiste Festival: Urban Exposure kicks off on Friday night July 22nd at 6:30 pm with the "No Repeats Rare and Reserve" party, an exclusive and intimate event (only 200 tickets available) that showcases over 50 extremely limited Club Only, Library and Pre-Release bottles, as well as some barrel samples. The event includes a taco buffet from Ibarra Catering and Eating.
Saturday's festivities begin at 11:30am for VIP ticketholders with "Ancient Techniques in Modern Times," a tasting seminar moderated by Garagiste Festival co-founder Stewart McLennan and featuring Nathan DeCamps of Innate Wines and Greg LaFollette of La Follette Wines. The seminar takes attendees on an exploration of ancient fermentation and aging techniques used by winemakers today to create expressive and distinctive wines.
"What is old is new again … and this seminar proves that with tastings of delicious wines vinified with techniques inspired by the past," said Minnick. "Many of these techniques are labor-intensive and time-consuming, relying on a true 'hands-on-every-barrel' approach that typifies Garagiste winemaking. As with all Garagiste events, 'Ancient Techniques in Modern Times' is a fantastic opportunity for our attendees to taste, learn and have fun, all at the same time."
Saturday's main event, The Grand Tasting, starts at 2:00pm (1:00pm for early access ticket holders) and features over 40 winemakers pouring 150+ wines and 20+ grape varieties. Complimentary cheese and charcuterie will be provided, along with food samples from local artisan vendors, bottled water and a souvenir Stolzle crystal wine glass.
All events take place at Glendale Civic Auditorium, 1401 North Verdugo Road, Glendale, CA. There is plenty of onsite parking and easy access from the 134 and 210 freeways
Among the over 40 winemakers pouring at The Garagiste Festival: Urban Exposure 2022 are:
Acri Wine Co.*, Alms Sol Winery, Amrita Cellars, Arianna Wines, Boonville Road Wines, Bushong Vintage Wine Co., Caelesta Vineyard*, DENO Wines, Dusty Nabor Wines, Etnyre Wines, Ferguson Family Wines, Forgotten Union Wines, Greyscale Wines, Intent Wines*, Kaleidos Winery, Light of Day Winery*, Marin's Vineyard, MCV Wines, Murder Ridge, Omega Road Winery*, Optio Vineyards*, Pine Mountain Vineyards, Prima Materia*, Purple Dragon Cellars, Rails Nap Wines, RF Fine Wines, San Rucci Winery, Seven Oxen Estate, Terre et Sang, Tomi Cellars*, Topophilia Wines*, Trois le Fou*, Turiya Wines, Two Papas Wines, Wander Must Wine, Wildflower Winery* and Zobeto Wines*.
*First Time Garagiste Participants
Tickets are very limited for the Garagiste Festivals and always sell out. Tickets are available here.
For breaking Garagiste Festival news and special discounts, sign-up for our free newsletter, The Dirt, at https://www.garagistefestival.com/garagiste-blog or follow us on Twitter (@GaragisteFest) or Facebook.
Sponsors include:

Bank of Marin, Cabot Cheese, Digital Dogma, ETS, Farm Credit West, Glenn Burdette, G3, Laffort, mWEBB Communications, Vinebase, WIVI. For sponsorship info, email info(at)garagistefestival.com.
The non-profit Garagiste Festivals benefit the Cal Poly SLO Wine and Viticulture program.
For sponsorship info, email info@garagistefestival.com
For more information and full Garagiste Festival: Urban Exposure schedule details, go to: https://www.garagistefestival.com/los-angeles-2022